On the 1st Day of Christmas.....
My true love gave to me:
-One Innova Longarm Quilting Machine
-Two Brother Sewing Machines
-Three Quilting Puzzles
-Four Quilting Books
-Five Spools of Thread, ba ba bump
-Six Boxes of Pins
-Seven Packages of Needles
-Eight Quilt Marking Tools
-Nine Quilting Rulers
-Ten Bobbins Rolling
-Eleven Yards of Wide Backing
-Twelve yards of Batting
Now all Sing-a-long!
Thought we should have a little fun with the holiday Christmas song. https://video.search.yahoo.com/search/video?fr=mcafee&p=muppets+12+days+of+christmas#id=2&vid=30300d9233de97477ff52bd8eb55c8c5&action=click
Welcome Brenda to the Innova/Montana Longarm Family!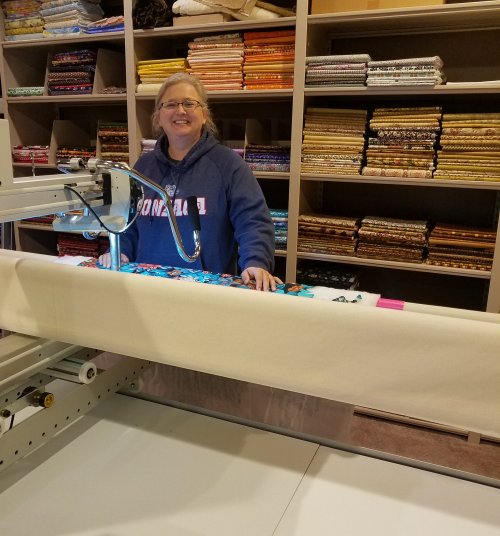 If you are finishing that Christmas quilt and need wide backings or 90" cuddle we have it. Check it out at https://www.montanalongarm.com/shop/Wide-Back-Fabrics.htm
Classes
-New change to classes. Covid has changed everything and the same for our classes. If you are interested in a class please call and set up a class on a date that will work for you. Schedule a class for one or have a friend join you.
-Class offerings
Guide Class - learning to use the longarm quilting machine

Auto Pilot Class- learn to fly on the computerized longarm quilting machine, requires guide class prior

Ruler Work Class- learn how much fun playing with rulers can be

Appliquilt Class- a few basics on applique and quilting it down as you go.
-Top Stitchers will meet virtually starting in January 2020.
Happy Holiday Sewing,
Donna, Julie, Ellzie & Janet
Montana Longarm Quilting and Supplies
3310 McHugh Lane
Helena, MT 59602
406-594-4872
www.montanalongarm.com